Some assembly seats in Madhya Pradesh are set to see an electoral fight among members of the same family albeit with different political backgrounds with the ruling BJP and the opposition Congress giving tickets to relatives, making them take on each other in quest for power.
Brothers, uncle-nephew, brother-in-law and sister-in-law, father-in-law and mother-in-law, all are pitted against each other in the November 17 elections to the 230-member assembly.
Sitasharan Sharma, a former assembly speaker and BJP candidate from Narmadapuram, is facing his brother Girijashankar Sharma, who is the Congress nominee.
Girijashankar Sharma, a former BJP MLA, recently shifted his loyalties and joined the Congress after the ruling party denied him a ticket.
In the Sagar assembly seat, Nidhi Sunil Jain of the Congress is taking on her brother-in-law and sitting BJP MLA Shailendra Jain. Nidhi Jain is the wife of Shailendra Jain's younger brother Sunil Jain, a former Congress MLA from Deori.
Similarly in Deotalab in Rewa district, the Congress has fielded Padmesh Gautam against his uncle Girish Gautam, sitting BJP MLA and the current assembly speaker. Padmesh Gautam had earlier defeated sitting MLA's son Rahul Gautam in panchayat polls.
In another intra-family electoral fight, sitting BJP MLA and party candidate Sanjay Shah is contesting against his nephew Abhijeet Shah of the Congress in Timarni in Harda district. Abhijeet Shah is in the fray against his uncle for a second time.
In Dabra in Gwalior district, former state minister Imarti Devi of the BJP is taking on her relative and sitting Congress MLA Suresh Raje. Imarti Devi's niece is married into Raje's family, BJP sources said.
Asked about relatives being fielded against each other on these seats, state BJP spokesman Pankaj Chaturvedi told PTI, "Madhya Pradesh is a family for the BJP. The party worker is a part of this family. The party takes a decision about fielding a suitable worker." Chaturvedi said the Congress is a dynastic party, where all key decisions are taken by one family, while the BJP is a cadre-based outfit.
Asked about the relatives vs relatives poll fight, MP Congress Media Department chairman KK Mishra termed it as a mere coincidence.
"People with different ideologies can stay under one roof and this is the beauty of democracy. So, this coincidence can happen in the electoral field also," Mishra said.
He noted the feeling of "Vasudhaiv Kutumbkam" (the world is one family) should stay among contestants despite their political and ideological differences.
Senior journalist and political commentator Anand Pandey said this is not a fight of ideologies, but a contest to get a post and position of power.
"Politics is going into a new direction. Both Sharma brothers (Sitasharan and Girijashankar), who are contesting against each other in Narmadapuram, were BJP legislators and one of them is now contesting from another party as he was not given a ticket," he noted.
Similarly, close family members are fighting against each other in Sagar, Timarni and Deotalab, he said.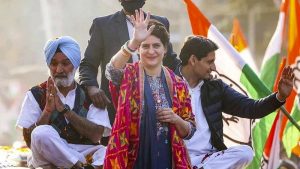 With inputs from News18