Implementation of the Uniform Civil Code, 10 lakh jobs in the manufacturing sector and a State Capital Region tag for Bengaluru are among the top promises made by the BJP in its manifesto for the May 10 Karnataka Assembly election. The document, named BJP Praja Pranalike, was released in...
The Supreme Court today held that it can dissolve marriages on the ground of "irretrievable breakdown of marriage" invoking powers under Article 142. It further held that the mandatory waiting period of six months for divorce through mutual consent can be done away with, subject to conditions. "We have...
A mobile phone was thrown towards Prime Minister Narendra Modi who was holding a roadshow standing on a specially designed vehicle, as part of campaigning for the May 10 Assembly elections, police said. The phone was hurled out of "excitement" by a woman BJP worker who had no "ill-intention",...
The Gujarat High Court, hearing Rahul Gandhi's appeal challenging his conviction in a criminal defamation case over his "Modi surname" remark, said it will continue hearing the case on May 2. The case was listed before Justice Hemant Prachchhak of the Gujarat High Court after Justice Geeta Gopi withdrew...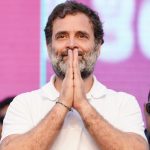 Several unnamed persons have been booked for offering namaz outside two mosques in the old city area in violation of prohibitory orders on Eid last week, police said on Friday. City Superintendent Police Kuldeep Singh Gunawat told the media that clerics had assured the district authorities ahead of Eid...
Congress MP Shashi Tharoor today slammed the country's Olympics body chief PT Usha for criticising the wrestlers' public protest over alleged sexual misconduct by the wrestling body head. Usha had said the wrestlers' protest "amounts to indiscipline" and slammed them for not waiting for the report by a committee...
The Calcutta High Court has ordered a probe by the National Investigation Agency (NIA) into Ram Navami violence in West Bengal. Violence had rocked West Bengal during Ram Navami celebrations last month. Acting on a petition filed by BJP leader Suvendu Adhikari, the high court ordered the transfer of...
A man brandishing a gun was tackled and arrested by the police as he threatened to hold a classroom full of children hostage at gunpoint in West Bengal's Malda. Chief Minister Mamata Banerjee said a disaster had been averted by the police's timely action, adding that the act...
Tamil Nadu BJP chief K Annamalai has released a second audio clip, where his party claims state finance minister PTR Palanivel Thiaga Rajan is heard denigrating the ruling DMK and accusing Chief Minister MK Stalin's family of corruption. In the audio clip – which NDTV cannot independently verify —...
Japanese start-up ispace conceded Wednesday its attempt to become the first company to land on the Moon had ended in failure, but pledged to move ahead with new missions. The unmanned Hakuto-R Mission 1 lander had been scheduled to touch down on the Moon's surface overnight, but about 25...