Producers' inflation rate based on the Wholesale Price Index (WPI) remained in the negative zone for the sixth successive month at (-) 0.26 per cent in September, government data released on Monday showed. However, sequential data showed that deflation has come down.
WPI inflation was (-) 0.52 per cent in August. Earlier, the government released retail inflation based on the Consumer Price Index (CPI), which beat all expectations and slipped to 5 per cent in September. Considering both the data, there is no possibility of rate revision any time now.
"Deflation in September 2023 is primarily due to a fall in prices of chemical & chemical products, mineral oils, textiles, basic metals and food products, as compared to the corresponding month of the previous year," a statement by the Commerce & Industry Ministry said.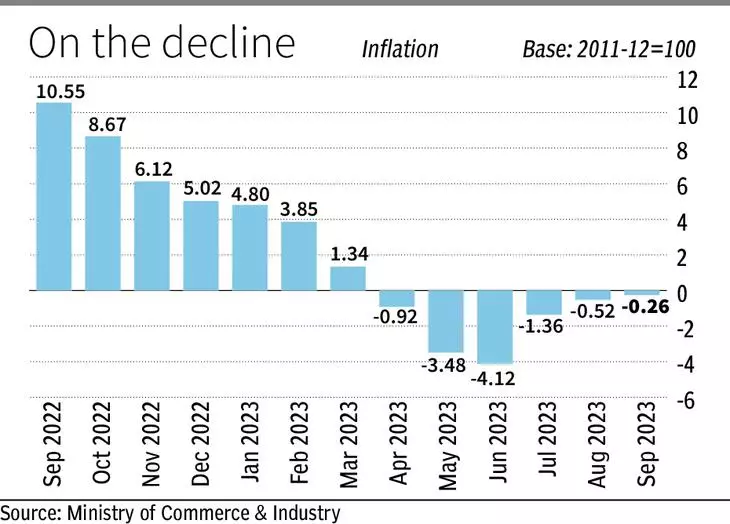 Rajani Sinha, Chief Economist with CareEdge Ratings said WPI exhibited its sixth consecutive month of contraction, with a decline of 0.3 per cent YoY, lower than the previous month's contraction of 0.5 per cent YoY. The decline in WPI for September can be attributed to a substantial deceleration in food prices and the continued YoY contraction in fuel prices and manufactured products prices, she said .
Mohit Ralhan, Chief Executive Officer with TIW Capital said manufactured goods witnessed a sequential rise in prices, indicating a recovery is underway in the sector. More importantly, food prices continued to witness a sequential decline. Vegetable prices, which had shot up in the last two months, saw a significant correction. This bodes well for the inflation trajectory in the economy, and will allow the RBI to stay put on interest rates.
Experts feel there could be an uptick in WPI during the second half. According to Sinha, with the support of a high base fading, an uptick in WPI inflation numbers could be seen in the second half of the fiscal year. Elevated global crude oil prices and risk to the kharif harvest from a skewed rainfall pose upside risks to WPI inflation. However, "with weak China demand, other global commodity prices are expected to remain benign, and that should keep WPI inflation low. For the full fiscal year (FY24), we expect WPI inflation to average below 1 per cent in FY24," she said.
Ralhan felt that with a sharp fall in food prices, the WPI index also witnessed a decline on an MoM basis in September. This was the first sequential decrease in three months. "India looks quite in control of inflation and this will likely give RBI the required headroom to react to global macroeconomic events and policy actions of the Fed," he said.
Source: The Hindu Business Line